Sprint 49
Hi, I'm Colin a product manager working on beta.parliament.uk. Each sprint I'm going to keep a running update of the work we've done & things I've learned along the way.
The team's current focus:
Make written questions and answers easy to find, easy to comprehend and a trusted source for re-use.
What we've done
Our firebreak between alpha and beta was wrapped up. Then we kicked off our first week of Written Questions and Answers Beta.
Written Questions and Answers Beta began! Pic of the team in action - bit blurry soz.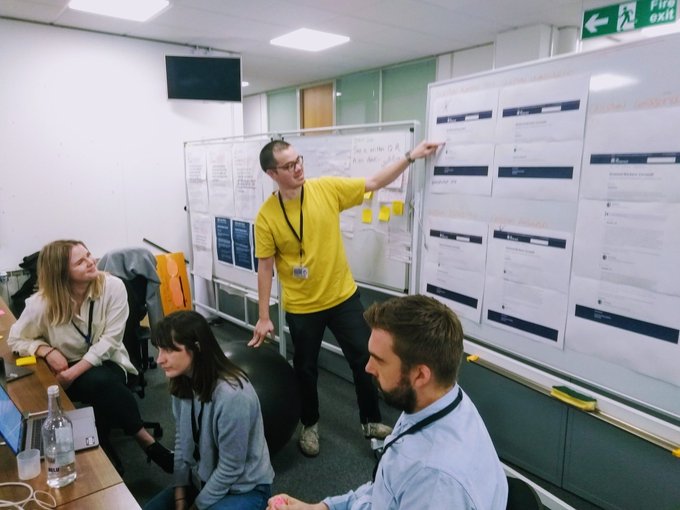 What we have achieved:
Some great work from Naz updating stakeholders if we are hitting our measures of success:
Lords Members Portraits: Overall, the release of the Lord's images has had a really positive impact, with more people visiting the site consistently and users interacting with the different images available. Users are also contacting Lord's more than they were before.
Banner connecting the current site and beta: There are significantly more users and pageviews for the beta page compared to the previous 30 days. We have had an increase of 3900% for people clicking to leave feedback. We have also noticed an upturn in the amount of feedback through other mediums to the people team (e.g. Webmaster)
Naz continues to measure and has been working on getting the measures of success for Written Questions and Answers in a good place
The team did an alpha retrospective with Victor (as a stand in for Caroline) - new style. Constructive points emerged and have been put into action!
We have been writing a report to wrap up alpha.
We did a beta kick off morning, which included clarifying our goals, jobs to be done to do, got a new mascot, identified target users, barriers and context we need to remember and a little team charter to live by
Bryony has been tackling SPARQL queries
Sharing with colleagues what the priorities of our data requests
Victor & Bryony also had a great chat with colleagues about options on what we could deliver. Colleagues quite literally rubbed their belly in glee.
Marttiina did two great sessions on team questions for beta and beyond & our research plan for beta
Discussions of headings/titles of written questions (this will be an upgrade of what we currently do but has its own challenges)
Chats about other research from other teams or from before our team that is relevant to our current work
Victor considering where our first stab at the best home for answers would be
Alan chatting about what content needs to be on the answers page
We stuck up the designs on the wall and went through them
Show and tell prep
Wider team work:
I got feedback on my sprintnotes format. Feedback is good. Change is good.
Bryony was a good teacher to new back-end devs. They were loving her SPARQL tutorial. She is also in charge of the retro next week. She's been researching what would be a fun session to do.
Chats with the team about what's going on with the roadmap meetings inside our own organisation
Victor cropping/adding more portraits.
BLOGS BLOGS BLOGS - I feel a flood of blogs are coming. More soon.
Random things we've learned or have been reading:
Announcements
I handed in my notice to embark on a new adventure. I think the team are immense and will enjoy the next few weeks together doing good stuff.